Orion Web Hosting
Canadian Smart Solutions
P.O. Box 44801, Sharjah, U.A.E.
Tel. : +971 6 5566188
Fax : +971 6 5566199
Mob. : +971 50 3876269
Email :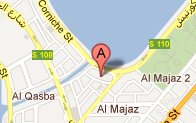 Orion Web Hosting is committed to provide you with high level service. Your feedback is important to us. Please complete all details in the form below and then click submit if you happen to have any comments, suggestions, complains, or sales related issues.